How to Host an Unrivaled BFCM Shopping Experience
Nov 8, 2022
Lindsay Kolinsky
Director of Marketing
BFCM Expert Tips Series: Post 2
With online retailers continuously upgrading their Black Friday and Cyber Monday strategies, it's no surprise that anticipation for the biggest shopping event of the season seems to escalate year after year.
But as uncovered in our recent 2022 Holiday Shopping Report, things look a little different for ecommerce brands this Black Friday and Cyber Monday. While Black Friday is usually a marker for consumers to kick start their holiday shopping, our data shows a significant portion of Americans began shopping much earlier than they typically do. Moreover, they're shopping with much lower budgets than usual, suggesting that while overall holiday spending may increase, Black Friday and Cyber Monday may fall.
This is, of course, requiring brands to re-examine their creative strategies to achieve a successful cyber week. With this in mind, here are the key things ecommerce brands need to have in place this Black Friday and Cyber Monday to deliver an exceptional shopping experience.
1. Establish A Real-Time Attribution Strategy
The fact that the holiday shopping season kicked off much earlier this year is requiring ecommerce marketplaces and online retailers to jumpstart their own holiday marketing campaigns unseasonably early.
Look at Amazon, who for the first time ever added a second Prime Day in October in response to these trends. This was a move that sparked other brands to introduce their own huge price drops, instigating nationwide two-day sales events that acted as a training session of sorts for the post-Thanksgiving cyber week.
Although this early start has opened up new opportunities for brands to reach new audiences, it's also increased the importance of being able to monitor campaigns in-the-moment and make critical optimizations on the fly.
According to Arjun Jolly, COO and Co-founder at adQuadrant, blended attribution signals are key for doing this.
"As we know, social platform data is somewhat designed to make the platform look as successful as possible," he says. "Brands should consider that data, but they should also be looking at Google Analytics and the Shopify backend to determine success and decide whether optimizations are necessary."
Unfortunately, due to App Tracking Transparency (ATT) changes from Apple, Facebook, and Google, marketing attribution has never been more difficult. This means that for many brands this cyber week, it will be much harder for them to identify customer acquisition pathways and conversion drivers.
Nevertheless, it's extremely important for brands to be "nimble" with budgets and look to "aggressively scale" based on the CPA/ROAS goals they agreed on ahead of time, says Blake Premer of Biddyco.
This is where an effective marketing attribution strategy comes in, allowing you to gain new insights into the effectiveness and ROI of your marketing efforts. Okendo Surveys, for instance, helps you to continuously collect marketing attribution insights directly from consumers during cyber week, including immediately after a purchase has been completed. You can then use these "ground truth" attribution insights to identify and measure the performance of channels, campaigns, and even specific marketing tactics.
Which leads us nicely into our next cyber week tip.
2. Be Ready to Edit Content in the Wild
Content marketers are perhaps never as busy as they are in the weeks leading up to cyber week. As we already advised in part one of our Black Friday and Cyber Monday blog series, it's crucial that brands have a well-prepared and personalized content marketing strategy ready to go beforehand.
Indeed, by the time the big weekend actually rolls around, content teams will have much of their creative work already done. But this certainly doesn't mean their cyber week duties are over. Rather, the most successful content marketing strategies are those that leverage data to make optimizations on the fly.
As Matthew Gattozzi, Founder of Goodo Studios says: "For content creation and ads, you need to have an editor ready to go. You are going to see initial data come in from ads and you might want to make small changes. Having an editor or a creative partner ready to go will help you make those adjustments so you don't miss out on opportunities."
John Gross from Fat Earth Media agrees. He says it's vital to "keep your creative fresh throughout your holiday sales period. Sales ads can fatigue quickly so consider switching your messaging throughout your campaigns based on when the best sales period might be for your products."
For example, data you collect during cyber week about your customers' demographics, behaviors, and intent may influence you to make in-the-moment changes to content. The best way to gather these insights is by implementing a zero-party data collection program. This will enable you to overcome the privacy-personalization paradox while also optimizing key elements of content across channels.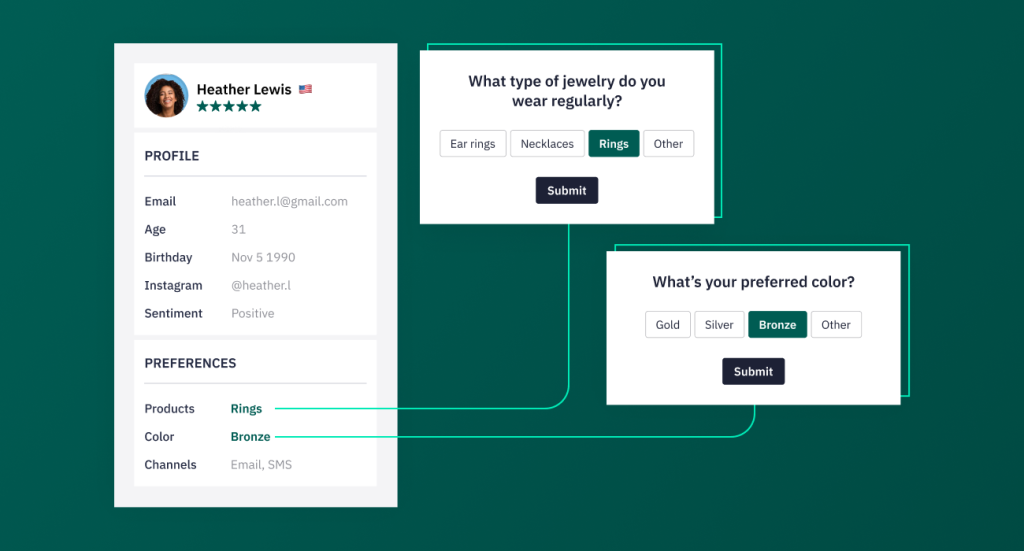 As for the most promising of these content channels during cyber week, according to our experts? Email.
"My number one tip to see success during cyber week is to send more emails!" says Jessica Totillo Coster, Ecommerce and Email Marketing Strategist at eCommerce Badassery. "Customers' inboxes are like Twitter feeds during this time and if we're not consistently sending emails, we're going to get lost in the shuffle."
In addition to BFCM launch and last-chance emails, she advises brands to retarget customers who didn't engage or who failed to make a purchase yet.
Jessica adds: "Present your products and promotions in different ways, promote your gift guides and your best sellers, and include stories and customer reviews. Lean into the value of these products and the benefits they provide to the user."
Arianne Foulks, CEO and Founder at Aeolidia, agrees. "What we see over and over is that email is by far the best converting channel with the highest revenue per user."
She admits, however, that this makes it a very competitive content tool since everyone's inboxes will be overflowing with offers. To help combat this, she advises retailers to pivot to SMS to grab their subscribers' attention.
"Whether or not you can use them this year, my one quick tip for brands before peak season is to start collecting phone numbers and consent for SMS marketing immediately… Now is the time to get ahead of the curve on SMS. Customers are only going to want to subscribe to texts from a few retailers, so make sure you get to them first!"
Meanwhile, Devin Schumacher, Founder and Head of Growth at SERP, advises brands to "overcommunicate" to get in front of audiences during an undeniably oversaturated sales period. "Send multiple emails, be active on social media and stay top of mind," he says. "It doesn't and shouldn't be all sell sell sell, but you need to keep your audience interested and engaged and opening emails."
Last but not least, Adam Moody from Oasis Optimization recommends making adjustments to your normal communication flows. "Update your abandon cart/checkout emails and SMS to go out faster and contain custom BFCM wording- people are moving quickly during this time, don't wait hours and hours to send these!"
3. Keep Count of Stock!
As dataTV's Adam Bell reminds, "Whatever you have on sale, make certain you have enough of those items in stock. [Cyber week] is not the time to do close-out sales!"
Of course, this is incredibly simple advice. But amidst the chaos of Black Friday and Cyber Monday, with retailers often experiencing their highest order volumes of the year, it's easy to lose track of your inventory.
With today's consumers far less forgiving of brands that fail to meet their rising expectations, an out-of-stock item or a canceled order could prove detrimental to your brand's reputation and cause your customers to switch to a competitor.
"There's nothing worse than shopping when all the collections are showing as sold out!", says Charlotte Michalanney, Marketing Manager at Convert Digital. "Delays during this busy time can cause significant brand damage, so finding a way to cut through to consumers will attract repeat customers."
Should you run out of a popular product, however, it's vital that you're prepared to pivot. This entails communicating stock updates to not only your customers but to your staff as well so they're prepared to answer incoming queries.
This brings us to our next cyber week necessity…
4. Amplify Customer Service
Customer issues are inevitable in ordinary circumstances. The reality is, amidst the pressures of Black Friday and Cyber Monday, mistakes are even harder to avoid, no matter how prepared your brand is.
"Based on my experience with ecommerce clients during this busy week, it's not uncommon for problems to arise with your website or third-party logistics providers," states Alejandra Santos, CEO and Founder at Startup Tandem. Even so, she asserts that brands can still benefit from a successful cyber week by having customer service support and tech support available at all times in case something goes wrong.
"Constant communication with 3PL also helps streamline this process," she adds.
It's not only in times of crisis that brands need an effective customer service strategy. With website traffic skyrocketing during this shopping extravaganza, customers are bound to have more questions about things like promotions, product lists, and delivery times. In fact, the number of customer support requests increases by 65% during the Black Friday and Cyber Monday peak.
This represents a huge opportunity for your customer service team to ask your customers for a review at the peak moments of their buyers' journey. For example, keeping in mind that uncontrollable logistics challenges often arise during cyber week, you should ask for a review after a product's delivery date to ensure the likelihood of a positive product review vs a negative review about the delayed shipping experience.
Let's face it: Customer reviews have quickly become ecommerce's holy grail. As the ecommerce industry grows, so too is the intensity of competition. Now, more than 9 million ecommerce stores are competing for a share of this global market alongside gargantuan ecommerce marketplaces such as Amazon, eBay, and Walmart. It's vital that brands promote their competitive differentiators – but it's even more valuable when customers do it for them.
After all, our own data shows that nearly all consumers (97%) look for reviews at least some of the time before making a purchase! Their importance is also set to escalate this holiday season with nearly half (49%) of consumers saying that reviews will play a more important role in purchasing decisions than in years past.
Clearly, brands can't afford to forfeit a well-prepared and well-staffed customer service strategy if they want to host a successful cyber week. Not only does customer service hold the power to convert prospects into loyal customers and solve issues before they become damaging brand detractors, but they have the ability to drive online reviews through customer communications, contributing to marketing ROI and even reducing customer acquisition costs.
5. Leverage Peak Traffic to Collect Customer Insights
Besides the opportunity that cyber week presents to multiply sales and grow revenue, BFCM also provides brands with an immense chance to get to know customers on a much deeper level. With website traffic and engagement hitting peak levels during this mega sales event, it opens up new doors for ecommerce brands to collect continuous customer insights which in turn, help drive more conversions and increase customer loyalty even after cyber week has passed.
"Modern consumers increasingly expect personalization as the default standard of engagement," says Matt Goodman, CEO and Co-founder at Okendo. "However, effective personalization requires brands to have deep and actionable insights into their audiences, including their identities, preferences, behaviors, and intentions.
"Cyber week is the perfect opportunity to scale your data collection strategies. And it's an especially great time to lean into the power of zero-party data to craft a hard-to-replicate customer experience that drives sustained competitive advantage."
During BFCM, ecommerce brands can collect zero-party data through a variety of channels such as reviews, micro surveys, and customer onboarding.
Other insights they can gather during this peak sales period include customer satisfaction rates, conversion drivers and blockers, marketing ROI, market research, and acquisition insights.
As Okendo SVP of Strategic Partnerships, Rachel Tyers, states: "Collecting continuous customer insights in-the-moment during BFCM won't just empower brands to deliver frictionless shopping experiences during cyber week. It will better prepare them to meet their customers' evolving needs in the future."
She adds: "The reality is, a proactive data collection program is the only way to overcome the myriad of challenges facing brands today. Whether it be the rise in advertising costs, the shift to a more privacy-centric web, or consumers' rising demands for personalization, this type of customer intelligence is necessary to win in this customer-centric world."
Check back in to catch our next blog on how ecommerce brands can retain customers and increase loyalty post-BFCM. See you soon!
Ready to learn more?
Let's Talk